Achieve a More Youthful Smile
with Teeth Whitening
For smiles affected by stains and discoloration, teeth whitening can restore the youthful, bright appearance of teeth. At West Lake Dental in Loveland, CO, Dr. Andy Maples performs in-office whitening treatments to remove stains caused by daily wear and tear on your teeth. Using a specialized ultraviolet (UV) light, he can enhance the effectiveness of the whitening product for dramatic results. We also offer a special bundle for patients who receive whitening in our office. You can take home customized whitening trays after your in-office procedure to maintain your vibrant new smile at home.
Candidates for Treatment
Teeth whitening has very few long-term risks, meaning a wide range of patients can experience the benefits of treatment. In general, candidates for whitening have mild to moderate discoloration.
However, there are certain conditions that may prevent you from receiving teeth whitening. Intrinsic stains on the deeper levels of the teeth generally do not respond to whitening. In addition, restorative materials, such as porcelain veneers and dental crowns, cannot be whitened. However, if you have a restoration and wish to proceed with bleaching, Dr. Maples can design a new crown, bridge, or veneer to match your newly whitened smile.
The Whitening Process
If you decide to move forward with whitening, one of our dental hygienists will begin by cleaning your teeth and gums to ensure no food particles or tartar interfere with the whitening agent. Then we will place a protective coating over your gums to avoid any transfer onto the soft tissue. Once your teeth are prepared, Dr. Maples will apply the whitening gel to the surface of your teeth, making sure to evenly cover the enamel for natural results.
To help you maintain your new sparkling smile, we offer a special whitening bundle which includes an at-home whitening kit.
We will leave the gel on your teeth for about 10 minutes to give the whitening agent time to work. Dr. Maples may also use the specialized UV light during this time. After 10 minutes, he will remove the gel. For most patients, we perform four rounds of whitening to achieve optimal results. A full whitening session typically lasts between one hour and an hour and a half.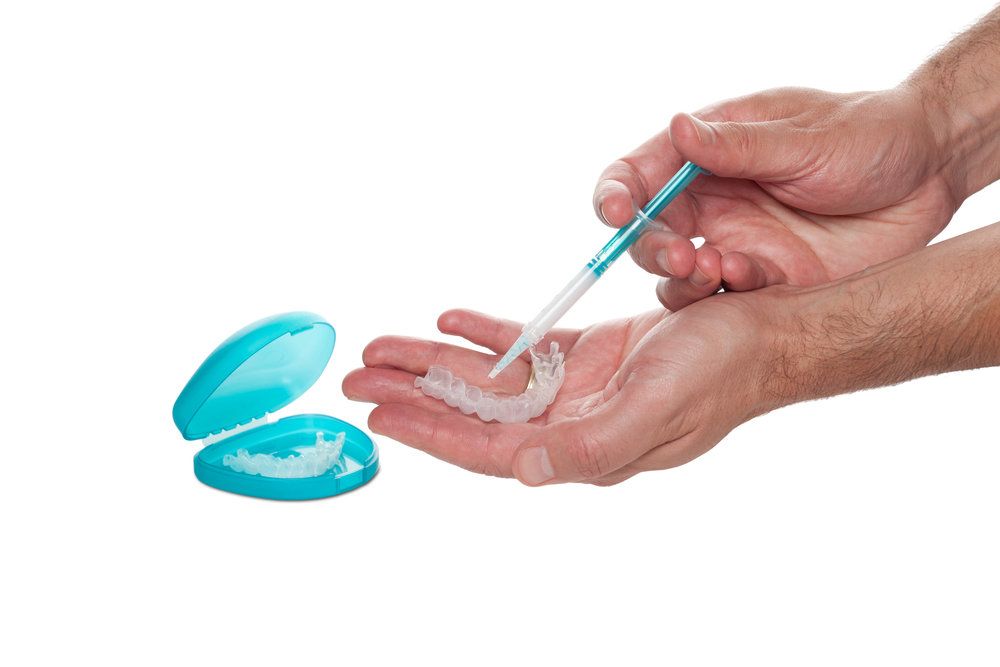 Our Whitening Bundle
To help you maintain your new sparkling smile, we offer a special whitening bundle, which includes an at-home whitening kit. During your whitening appointment, we can take impressions of your teeth and fabricate custom-made whitening trays. When you are ready for a touch-up, simply fill the trays with whitening gel using the provided syringe and fit them over your teeth. Depending on the strength of the whitening agent, you will wear your trays for about 15 minutes to one hour, or overnight.
Why Whiten Your Teeth?
Teeth whitening is a safe, quick, and effective way to enhance the aesthetics of your teeth. Additionally, whitening is one of the most non-invasive procedures in cosmetic dentistry and is much more affordable than treatments such as crowns or porcelain veneers. When you are confident about the appearance of your teeth, you can laugh and smile more freely.
A Brighter Smile
If you are self-conscious about the appearance of your smile, a teeth whitening procedure at West Lake Dental is a great solution. For more information about our whitening bundle or the other cosmetic services we offer, call our office at (970) 669-1444 or contact us online today.