Age, certain foods and drinks, injuries, and even medication can cause an otherwise healthy smile to become lackluster.
Many people wish they could improve their appearance by straightening, whitening, and otherwise enhancing their teeth.
At West Lake Dental in Loveland, CO, Dr. Andy Maples and his dedicated team can transform your appearance with cosmetic dentistry.
Dr. Maples' Experience and Skill

Dr. Maples has undergone hundreds of hours of continuing education. He is committed to providing patients with absolute honesty, state-of-the-art technology, and exceptional dental care at every visit. He uses full arch digital photos and laboratory-made full contour wax-ups to achieve excellent results.
Dramatic Teeth Whitening Results
Before and After Photos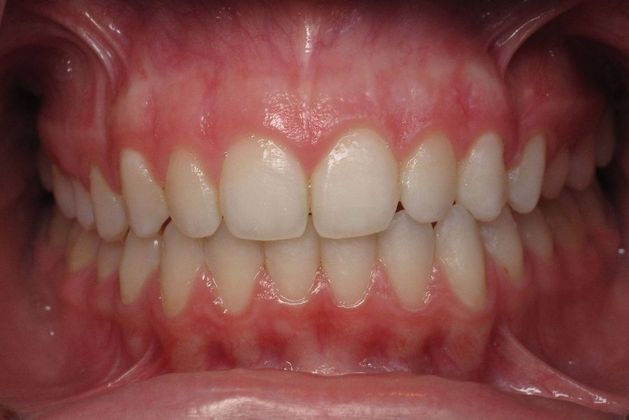 Cosmetic Dentistry Services

Learn more about the cosmetic dentistry services that we offer, and schedule an appointment at our Loveland office to find out which cosmetic treatments are right for you.

Invisalign
Invisalign is a popular teeth straightening solution because it is more discreet and comfortable than other orthodontic options. The system uses clear aligners that are switched out every week or two to gradually move your teeth into alignment. The clear, smooth material is far less noticeable than braces and less likely to cause gum irritation. After the Invisalign treatment process is complete, patients can have beautifully aligned teeth for a lifetime. A dentist can determine if you are a good candidate for treatment during a consultation appointment.
In-Office Teeth Whitening
Teeth whitening is one of the most common cosmetic dentistry treatments available. We are happy to offer in-office whitening as a fast and effective way for patients to attain a fresh look. We'll use high-grade bleaching gel and a special light to remove years of stain off your enamel. Best of all, the whole process only takes around an hour, allowing you to leave that same day with a smile that's whiter by several shades.
Tooth-Colored Fillings
At West Lake Dental, we're happy to provide the most aesthetic and least invasive tooth-colored dental fillings available. Made from composite resin, these fillings can be precisely shaded to match your enamel and then directly bonded in a way that strengthens your tooth's natural structure. Better yet, they're less sensitive to hot and cold temperatures than metal alternatives, resulting in improved comfort.
Porcelain Veneers
Wouldn't it be great if you could just give your look a complete do-over? Thankfully, veneers can do just that. Made from wafer-thin, high-quality dental porcelain, veneers are precisely designed to cover a single tooth and its cosmetic flaws behind a new, polished appearance. We can even change the length, shape, or shade of each tooth!
All-Ceramic Restorations
Here in Loveland, our dental team doesn't want you to choose between improving your oral health and a beautiful smile. You can have the best of both worlds! That's why our dentist, Dr. Maples, is happy to offer crowns, bridges, inlays, and onlays that are precisely crafted from high-quality ceramic and other tooth-colored restorations. These restorations still offer patients the strength and durability the teeth need while also maintaining or improving their aesthetic quality, allowing patients to smile with confidence. They can also be secured to dental implants for tooth replacement.
Smile Makeovers
As a skilled cosmetic dentist who offers quality dental care, Dr. Maples can perform comprehensive smile makeovers that combine any number of cosmetic dentistry treatments. Whether you need dental implants to address tooth loss, natural looking restorations for improved strength, or cosmetic treatment to enhance your smile, our dentist can develop a comprehensive smile makeover treatment plan to address all of your dentistry needs.
Financing Options Available

Contact us to learn about the financing options that are available to help cover the cost of cosmetic dentistry treatment.

"Couldn't Ask for a Better Team to Take Care of My Teeth"
5-star Google Reviews
Andy and company were great. They really set you at ease and try to get to know you and provide you with all the information. You go over every approach and the pros and cons of each one, allowing you to make an accurate decision. Couldn't ask for a better team to take care of my teeth and mouth in general.

View On Google
After trying a couple of dentists, checked out Dr. Maples. Was very impressed with his thoroughness and expertise. He took the time to go over the forms getting to know my history. And clearly explained whats going on with my dental issues. I feel I'm in good hands! And , Sarah, his assistant was superb!!

View On Google