Age, certain foods and drinks, injuries, and even medication can cause an otherwise healthy smile to become lackluster.
Many people wish they could improve their appearance by straightening, whitening, and otherwise enhancing their teeth.
At West Lake Dental in Loveland, CO, Dr. Andy Maples and his dedicated team can transform your appearance with cosmetic dentistry.
What Is Cosmetic Dentistry?
This form of dentistry focuses on enhancing the aesthetics of your smile rather than its health or function. Cosmetic treatment can significantly improve the shape, color, and size of your teeth. While cosmetic dentistry differs from restorative dentistry in its main focus, your cosmetic treatment may also provide some practical benefits.
What About Missing Teeth?
If gaps in your smile are affecting your look, your bite, and your self-confidence, you can turn to us for help. Dr. Maples is more than a cosmetic dentist—he is also skilled in implant dentistry, and he can handle the entire dental implant process, from implant placement to restoration, right here at our office in Loveland. You won't have to seek care from an outside specialist at any point in your treatment journey, even for a preparatory bone graft.
From single-tooth implant-support crowns to full-arch implant-supported dentures, we can treat all levels of tooth loss with the expertise and precision you need to restore your dental function and transform your appearance. Contact us to learn more about our dental implant offerings.
Loveland Patients Trust Dr. Maples
Request a Consultation With Our Skilled Dentist
While Colorado requires dentists to complete 10 hours of continuing education each year, cosmetic dentist Andy Maples frequently completes over 100 hours annually. In addition, he received a fellowship from the Academy of General Dentistry in 2018. To achieve this, he had to complete 500 continuing education credit hours and receive recognition from other dentists as a leader in the field. That same year, he and the team at West Lake Dental received the Best of Loveland award for the second time.
Dr. Maples is truly passionate about dentistry, and he has a special interest in transforming the lives of his patients through excellent cosmetic care. If you'd like to speak with Dr. Maples about what he can do for your smile, request an appointment at our Loveland, CO, office online or call:
"Dr. Andy is an exceptional dentist."
Read Reviews From Our Happy Patients
Dr Andy is an exceptional dentist, with a kind demeanor, and incredible skills in dentistry. I've been so impressed with the office and his work. So so glad I found this dentist
View on Google
Great staff, wonderful standard of care, all the latest technology. Dr. has a great hand with numbing injections, and the cosmetic quality of the work is top notch.... and I've had enough of both in my life to be a connoisseur at this point.
View on Google
Our Featured Cosmetic Dentistry Services
Learn more about the
cosmetic dentistry services
that we offer, and schedule an appointment at our Loveland office to find out which cosmetic treatments are right for you.
Invisalign
Invisalign is a popular teeth straightening solution because it is more discreet and comfortable than other orthodontic options. The system uses clear aligners that are switched out every week or two to gradually move your teeth into alignment. The clear, smooth material is far less noticeable than braces and less likely to cause gum irritation. After the Invisalign treatment process is complete, patients can have beautifully aligned teeth for a lifetime. A dentist can determine if you are a good candidate for treatment during a consultation appointment.
In-Office Teeth Whitening
Teeth whitening is one of the most common cosmetic dentistry treatments available. We are happy to offer in-office whitening as a fast and effective way for patients to attain a fresh look. We'll use high-grade bleaching gel and a special light to remove years of stain off your enamel. Best of all, the whole process only takes around an hour, allowing you to leave that same day with a smile that's whiter by several shades. We'll send you home with a professional-grade at-home kit to help you maintain your dazzling results.
Tooth-Colored Fillings
At West Lake Dental, we're happy to provide the most aesthetically pleasing and least invasive tooth-colored dental fillings available. Made from composite resin, these fillings can be precisely shaded to match the color of your enamel and then directly bonded in a way that strengthens the natural structure of your tooth. Better yet, composite fillings are less sensitive to hot and cold temperatures than metal alternatives, resulting in improved comfort.
Porcelain Veneers
Wouldn't it be great if you could just give your smile a complete do-over? Thankfully, veneers can do just that. Made from wafer-thin, high-quality dental porcelain, veneers are precisely designed to cover the flaws of a single tooth or even your entire smile behind a new, polished appearance. We can even use veneers to change the length, shape, or shade of each tooth!
All-Ceramic Restorations
Here in Loveland, our dental team doesn't want you to choose between improving your oral health and having a beautiful smile. You can have the best of both worlds! That's why our dentist, Dr. Maples, is happy to offer crowns, bridges, inlays, and onlays that are precisely crafted from high-quality ceramic and other tooth-colored restorations. These restorations still offer patients the strength and durability the teeth need while also maintaining or improving their aesthetic quality, allowing patients to smile with confidence. They can also be secured to dental implants for tooth replacement.
As a skilled cosmetic dentist who offers quality dental care, Dr. Maples can perform comprehensive smile makeovers that combine any number of cosmetic dentistry treatments. Whether you need dental implants to address tooth loss, natural looking restorations for improved strength, or cosmetic treatment to enhance your smile, our dentist can develop a comprehensive smile makeover treatment plan to address all of your dentistry needs.
Dramatic Teeth Whitening Results
Before and After Photos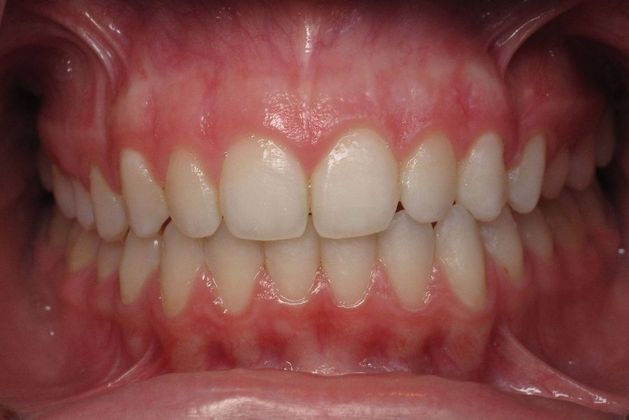 Experience a Unique Level of Care
In a Unique Setting
At West Lake Dental, we strive to provide an unparalleled level of comfort and relaxation during your visit.
Our modern building was designed by a student of famed architect Frank Lloyd Wright, and our interior is decorated to feel more like a boutique spa than a dental office. We invite you to enjoy complimentary coffee, tea, and bottled water in our bright and spacious waiting room while Dr. Maples prepares for your visit.
During your appointment, you'll be able to look out onto a tranquil view of Lake Loveland from your seat. If you're looking for more exciting entertainment, feel free to watch a show on TV to help pass the time.
We look forward to treating you to a truly special dental experience from start to finish. If you're ready to get started with life-changing cosmetic treatment at a one-of-a-kind practice, send us a message online or call us at:
"West Lake Dental is the best."
5-Star Reviews for Our Practice
Dr. Maples and his staff have been amazing. The atmosphere is comfortable and they take great care to make sure you understand your options and know what's going on throughout your dental procedure. Dr. Maples had a gentle hand and I appreciated how discomfort free my entire procedure was. Will definitely be getting all my dental work done at Westlake Dental! Highly recommend
View on Google
West Lake Dental is the best dentist near me. They are a great local dentist that is always there for any dental issues. They are honest and they schedule in a timely manner. The staff is on time and they treat the family dental needs as they would their own! They are friendly and they have a solution for everything. I would recommend them for the whole family!
View on Google
Concerned About Costs?
Flexible Financing Options Are Available
Cosmetic procedures like veneers and teeth whitening are not covered by dental insurance. To make the enhancements you want affordable, we accept many forms of dental insurance, and our team includes an insurance specialist who will help you get the most from your coverage.
If your procedure is not covered by insurance or you need assistance budgeting for out-of-pocket costs, we accept financing through LendingClub. This lender offers loans with little or no interest and flexible monthly payment plans that can keep your treatment within your budget. We also offer a 5% discount if you pay in full via cash or check on the day of your procedure.
"Couldn't ask for a better team to take care of my teeth."
More 5-star Google Reviews
Andy and company were great. They really set you at ease and try to get to know you and provide you with all the information. You go over every approach and the pros and cons of each one, allowing you to make an accurate decision. Couldn't ask for a better team to take care of my teeth and mouth in general.

View On Google
After trying a couple of dentists, checked out Dr. Maples. Was very impressed with his thoroughness and expertise. He took the time to go over the forms getting to know my history. And clearly explained whats going on with my dental issues. I feel I'm in good hands! And , Sarah, his assistant was superb!!

View On Google